A Speech On Lockdown By Phurnes Of Class X
Phurnes of Class 10 C participated in a competition "CONTEST ALERT" organised by Janu Creations YouTube Channel. He spoke about Lockdown and won the first prize. Congratulations !!
Shradhanjali - A Tribute To Our Guru
The Sradhanjali, dedicated to our beloved Dr.Mrs.YGP ma'am was conducted online on the 6th of August 2020. It was a collective effort by students and staff members of The PSBB Millennium School Coimbatore, to commemorate the first death anniversary of Dr.Mrs.YGP ma'am.
The event started with Aarya of class 10-E explaining the importance of our gathering. Dr. Mrs. Rajalakshmi Parthasarathy was a visionary among dreamers. She was an immortal flame, fuelled by sheer determination. The event then proceeded with Aadvika of class 10-E rendering Dr. Mrs. YGP ma'am's favourite song 'Sharanu Siddhi Vinayaka', as a prayer.
Then we had our principal ma'am, Mrs. Hemalatha Seshadri introduce Mr. Shantanu Prakash, managing trustee of The Learning Leadership Foundation to address the gathering regarding the agenda of the event. He threw light on the journey of the PSBB group of schools, emphasizing on how it all began with 13 students under a thatched roof and is now one of the most reputed group of schools in the country. He then went on to explain the ideals that we must learn from the life of Dr. Mrs. YGP ma'am that we must follow and look up to. He gave an example of how Dr. Mrs. YGP ma'am was the first educationist of our country, when all other forces were keen on popularizing western culture and western education. He explained how she created a blend of latest educational practices and the culture and Sanskriti of our country, resulting in a beautiful and unique educational methodology. This is encapsulated in the phrase used by every 'PSBBian' to greet their gurus, "SHRI GURUBHYO NAMAHA", which was brought into practice by Dr.Mrs.YGP ma'am herself.
Mr. Shantanu concluded his address by reminding all of us of the great values to be learnt from Dr.Mrs.YGP ma'am. Next we had our principal ma'am and other staff members offer their respects to our beloved Guru through Pushpanjali, or floral tribute. This was followed by a Deepanjali to our Nyana Jothi by all the students.
Next, we had Neha Raghu of class 10-E and Mrs.Poornima pay their respects through their oratorical skills, or Vakyanjali. They spoke about how Dr.Mrs.YGP ma'am singlehandedly made history and how she still continues to inspire many through her undying ideals.
We had Mrs.Vijayasri pay her tributes by a beautiful rendition of 'Vizhi Kidaikuma' as Geethanjali, while Mrs.Gayathri paid her respects to Dr.Mrs.YGP ma'am with her graceful dance as Nrityanjali. Next, we had a Tamizh poem by Phurnes of class 10-C and a Hindi poem by Mrs.Binita, both praising the honourable Dr.Mrs.YGP ma'am, as Kavithanjali.
Lastly, we had our principal ma'am Mrs. Hemalatha Seshadri recollect the legacy of Dr.Mrs.YGP ma'am, reminding everyone of her ever living excellence. The event concluded after everyone paid their respects to Dr.Mrs.YGP ma'am one last time. Even if she is not here with us at the moment, her values and ideals will keep her alive for ever. As the next generation, it is in our hands to keep her legacy alive. And that, is a promise, ma'am. SHRI GURUBHYO NAMAHA.
Aadvika Srikrishna, 10-E.
Idea Conclave
As a part of decennial celelbrations, an Idea Conclave was conduced on 28 th and 29 th of November. Many Studets from classes VIII and IX participated. The Delegates were divided into four commitees namely, Delhi: air pollution,Socio-Economic development in Rajasthan, Interstate water crisis and North Eastern States. They debated on various issues related to the given topics. The Idea Conclave served as a platform for the delegates to enchance their debating skills.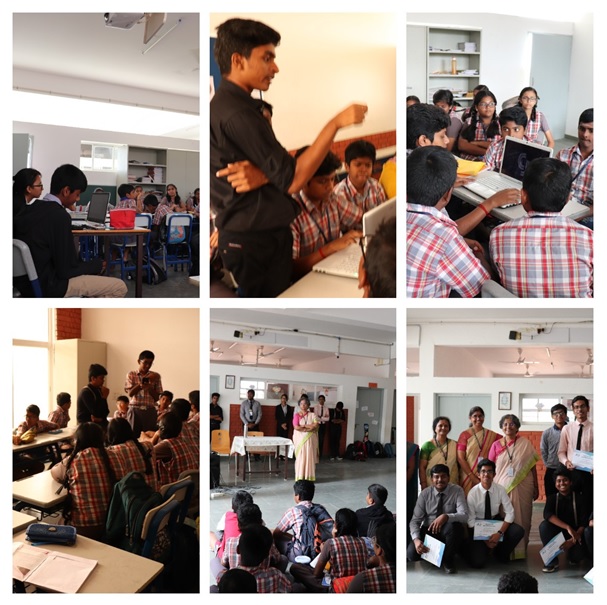 Live And Let Live – Primary Project
The children of Classes I – V delivered a stupendous show and did great justice to their theme "LIVE AND LET LIVE". They spoke with immense confidence and displayed clarity in the concepts at hand. Commencing with the role of an individual living in his environment, along with traditions and culture then integrating them into values to be practiced in society with fellow humans was the theme for Classes I and II. Living amongst nature and surroundings, the impact of human actions and solutions to overcome environmental issues were covered by Class III. Class IV touched upon the need to embrace technology in our lives and Class V brought out the benefits of a healthy diet, sports, games and spirituality which culminate into a healthy lifestyle for an individual and then a society as a whole.